US youths won a landmark climate case, Mexico's poverty rate plummeted, and the world's most trafficked animal breathed easier, plus more good news
US youths won a landmark climate case, Mexico's poverty rate plummeted, and the world's most trafficked animal breathed easier, plus more good news
Young environmentalists in Montana, US, have emerged victorious after suing state officials for violating their right to a clean environment.
The 16 youths – aged between five and 22 – argued that Montana's fossil fuel policies contributed to climate change, which harms their health. Montana – a major coal producer with large oil and gas reserves – rebuffed the claim, saying its emissions were insignificant on a global scale.
But in a 103-page ruling, judge Kathy Seeley set a legal precedent for young people's rights to a safe climate by finding in their favour. "Every additional tonne of GHG [greenhouse gas] emissions exacerbates plaintiffs' injuries and risks locking in irreversible climate injuries," she wrote.
It's the first time a US court has ruled against a government for a violation of constitutional rights based on climate change. It will now be up to Montana lawmakers to bring state policies in line.
Julia Olson, executive director of the nonprofit law firm, Our Children's Trust, which represented the youths, said: "As fires rage in the west, fueled by fossil fuel pollution, today's ruling in Montana is a gamechanger that marks a turning point in this generation's efforts to save the planet from the devastating effects of human-caused climate chaos."
Image: Markus Spiske
A minimum wage boost and increases to pensions are thought to be behind Mexico's plummeting poverty figures.
The number of Mexicans living in poverty fell by 8.9 million between 2020-2022, according to new data published by the country's social development agency, Coneval. Boosts to welfare programmes are also said to have played a part.
Coneval's statistics suggest that the number of people living in extreme poverty also fell – from 10.8 million in 2020 to 9.1 million last year – although that figure is still up from a pre-Covid 8.7 million recorded in 2018.
"There is less poverty and less inequality in our country," said president López Obrador, though critics say his presidency has actually been characterised by austerity.
Nevertheless, some of the poorest Mexicans appear to be living a little easier.
Image: Tim Mossholder
The role of a small European wildlife charity in busting kingpins behind as much as half of the world's illegal trade in pangolin scales has been revealed weeks after the traffickers began six-year jail sentences.
The Wildlife Justice Commission (WJC) went undercover to expose the three Vietnamese and one Guinean national, members of an organised crime group trafficking body parts of endangered species including rhinos. 
They were arrested by Nigerian customs in May 2022 following a four-year investigation by the WJC, and accused of trafficking 7.1 tonnes of pangolin scales, as well as 850kg of ivory. Last month they pleaded guilty to smuggling and were jailed for six years.
All eight species of pangolin are listed as threatened – with four considered critically endangered – and are protected under international law. Their scales are used in traditional medicine in Asia, while the animals are eaten in Africa.
"There has not been a reported seizure of pangolin scales in Asia originating from Africa in more than 550 days," said Steve Carmody, WJC's director of programmes. "There is no clearer example of the importance of disrupting organised crime networks."
Image: Shukran888
The problem of plastic soup floating in our oceans could have been overstated by as many as 100 times, according to a new study out of the Netherlands. 
Researchers at Utrecht University calculated that the world's seas contain around 3.2m tonnes of plastic waste. Previous estimates by environment organisations – based on comparing the amount of plastic produced each year with the volume reused, dumped or incinerated – have put the figure at anything between 50m and 300m tonnes.
The team, led by oceanologist Mikeal Kaandorp, suggest that seas contain far fewer plastics than previously thought – potentially making clean-ups easier – and suspect the discrepancy is, in part, due to plastics lingering longer in rivers.
If that proves to be the case, another team of Dutch academics have a genius, lo-fi solution with their 'bubble barriers' – curtains of bubbles which nudge waste to the riverbank for collection. 
Image: David Troeger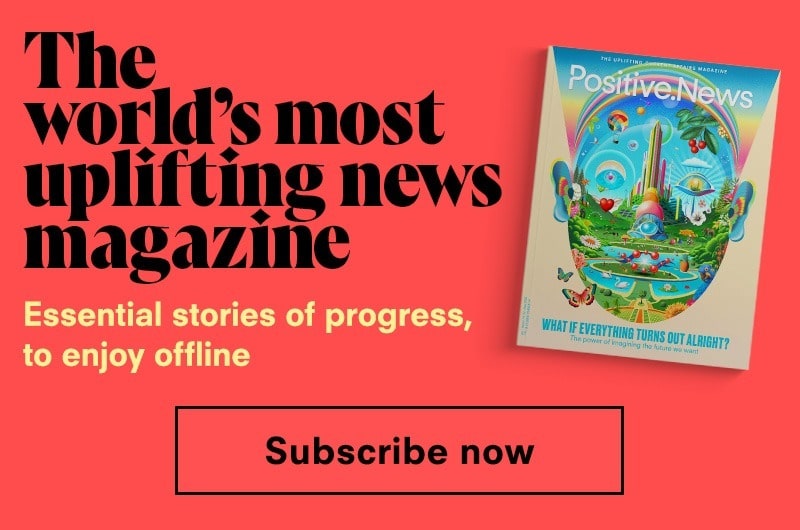 The unstoppable march of AI continues, it seems, and now we can add wildlife tracking to the growing list of things robots do better than humans. 
The use of AI-controlled microphones and cameras looks set to revolutionise biodiversity monitoring in the UK following groundbreaking work by researchers at the Zoological Society of London (ZSL)
They used the tech to record and analyse 3,000 hours of wildlife audio captured by monitors located near London railway lines. Computers picked out dozens of bird species, as well as foxes, deer, bats and hedgehogs – and also mapped their locations.
It's hoped the innovation will help improve conservation and habitat management on Network Rail land. "We couldn't have done it at that scale using human observers. Only AI made it possible," ZSL conservation specialist Anthony Dancer told The Observer.
Image: Piotr Łaskawski
They sell some 19bn units a year worldwide and their shape has remained almost unchanged since their invention – but now tampons are set for their first upgrade in a century. 
The US Food and Drug Administration has approved a new spiral shape created by San Francisco-based startup, Sequel, which promises more comfort and less leakage. 
Cofounders and former Stanford University classmates Greta Meyer and Amanda Calabrese dreamt up the innovation in an undergrad business project five years ago, and said that FDA approval was a "milestone". Trials are next, with a public launch expected next year.
Image: Sequel
How do you improve mental wellbeing amid war, famine and a collapsing health system? 
An elderly retiree in Yemen came up with a solution – a free, daily Swedish Gymnastics club, which has spread fast across the country. 
Read the full story here, which is the latest in our developing mental wealth series. 
Image: Reuters
This year is hotting up to be the best ever for UK renewable energy installations, with record numbers of households fitting solar panels and heat pumps.
According to new figures, 2023 marks the first time solar panel installations have topped an average of 20,000 a month, as homeowners look to harvest energy from the sun amid rising utility bills. 
Read the full story here.
Image: Ray Keller/iStock
They've been bombed, burned and suffocated by smog – yet somehow they're still standing. The Woodland Trust has announced the shortlist for its annual celebration of some of the UK's most treasured ancient trees, and for 2023 the spotlight is on the urban landscape.
"Ancient trees in towns and cities are vital for the health of nature, people and planet," said the charity's lead campaigner Naomi Tilley. "They give thousands of urban wildlife species essential life support, boost the UK's biodiversity and bring countless health and wellbeing benefits to communities."
Find out if your favourite made the shortlist here.
Image: Julian Hight/Woodland Trust
Main image: LFPuntel 
Get your weekly fix of good news delivered to your inbox every Saturday, by signing up to the Positive News email newsletter.
Positive News is helping more people than ever to get a balanced and uplifting view of the world. While doom and gloom dominates other news outlets, our solutions journalism exists to support your wellbeing and empower you to make a difference towards a better future. And as Positive News' audience and impact grows, we're showing the rest of the media that good news matters.

But our reporting has a cost and, as an independent, not-for-profit media organisation, we rely on the financial backing of our readers. If you value what we do and can afford to, please consider making a one-off or regular contribution as a Positive News supporter. Give once from just £1, or join 1,000+ others who contribute an average of £3 or more per month. You'll be directly funding the production and sharing of our stories – helping our solutions journalism to benefit many more people.

Join our community today, and together, we'll change the news for good.
SUPPORT POSITIVE NEWS
Website: Atomic Smash
Our small, dedicated team is passionate about building a better alternative to the negative news media. And there's never been a greater urgency to our mission. 
To invest in producing all the solutions journalism that the world is longing for, we need funding. We're asking readers like you to get behind us by making a regular or one-off contribution as a Positive News supporter. Together, we'll change the news for good.